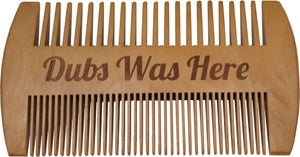 DUBS DOUBLE SIDED BEARD AND MOUSTCHE COMB
Every man knows how important a great comb is to his grooming arsenal. This DUBS double-sided beard and mustache comb is the perfect blend of two worlds.
A two-in-one combo, this comb has wide teeth and fine teeth which are strong enough to handle any size beard or mustache. Made of a clean peach hardwood this comb will be a handy tool for many years to come.
• Double sided
• Laser engraved
• Travel / Pocket size
• 3.75 X 2.25